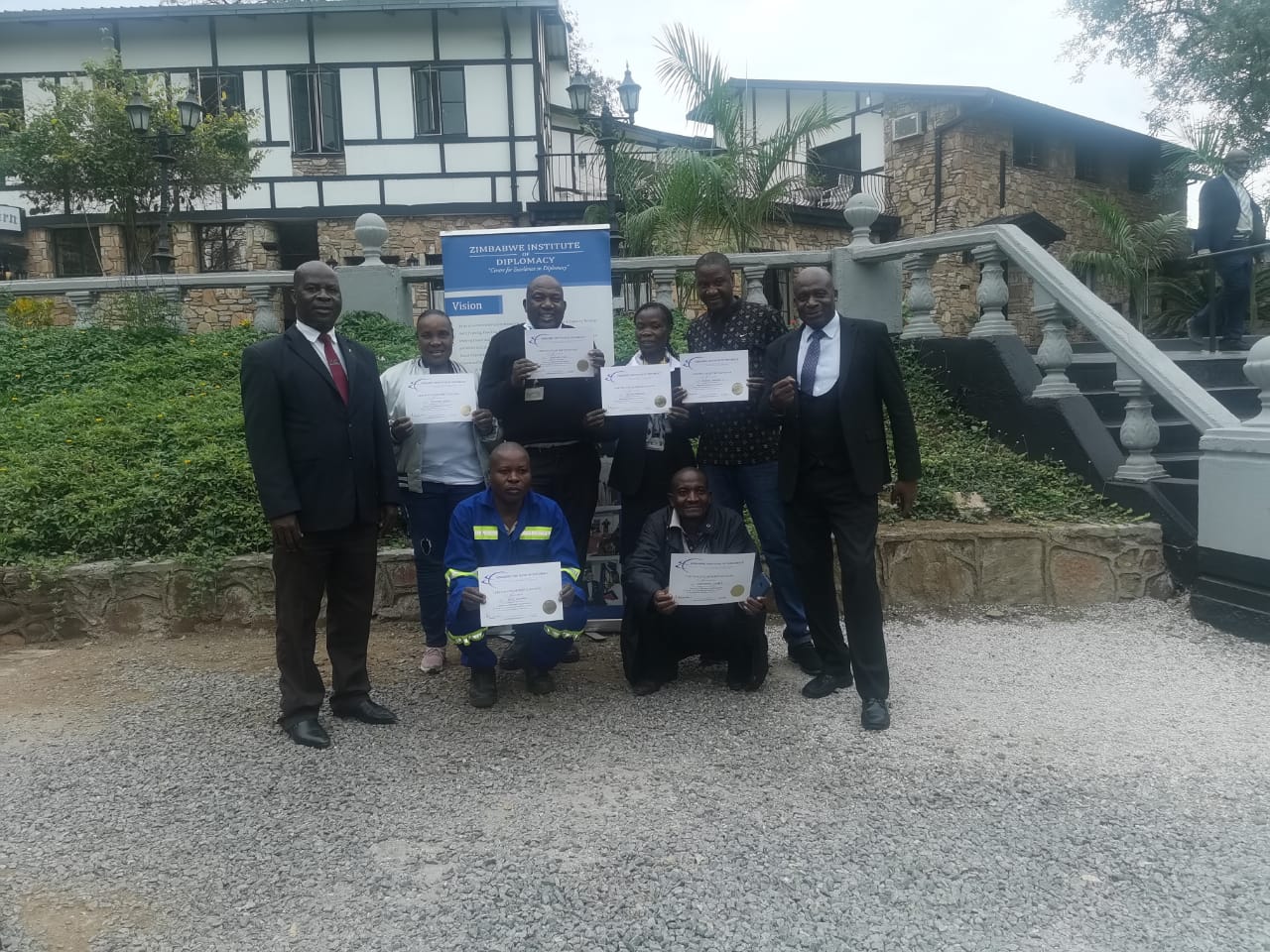 Diplomacy, Protocol, Grooming and Etiquette Training for Airports Companies of Zimbabwe
The Zimbabwe Institute of Diplomacy (ZID) conducted a one – day Diplomacy and Protocol course for the three national Airports of Zimbabwe as follows, Masvingo Airport 19 July, Buffalo Range Airport on 21 July, and Kariba Airport on 26 July 2022. The workshops were tailor made and designed for the Airports customer service personnel and the Aviation security team responsible for receiving, welcoming and sending off general clients, receiving and sending off VVIPs, Handle customer complaints, assist passengers in checking in, tickets, provides flight information, checks baggage, undertaking security patrols and escorts, Protection of civil/ commercial aviation passengers and visitors and also solve travel related problems. The workshop was anchored on accompanying "The Zimbabwe is Open for Business Mantra". The Workshops covered application of Diplomacy and Protocol, in the delivery of effective and apt Customer Service Etiquette. Essence for Diplomatic and Protocol coaching was meant to gear the Airline Customer Service agents with an expanded scope of Diplomatic customer service to ensure the satisfaction and happiness of airline customers. Diplomatic and Protocol Techniques were explored including protocol for proper introductions and greetings, Protocol of ushering and corsages, protocol of seating, walking and standing arrangements for VVIPs and general clients, Roles of a protocol officer, state protocol, International Travel Protocol Practices , Multicultural Diversity and Cross Cultural Business dimensions, Protocol and Strategies of managing events and ceremonies, Diplomacy and Diplomatic strategies for handling VVIPs and appropriate language and distinction were explored.
To create lasting first impressions airline customers agents were exposed to intensive professional grooming and deportment, and international business etiquette coaching. The participants were also endowed with the training as it covered application of international personal Branding and guidelines for decorum in business etiquette, Professionalism and grooming which include aspects of professional attire, personal and professional hygiene.  The workshops were conducted as a rebranding tool for the new Airport Company of Zimbabwe. Mr V.A. Chikanda, a Diplomacy, Protocol and Professional Branding Academic facilitated the Workshops.